Lights of Life
Remember the people you love and miss.
We never stop missing the people no longer with us. We know it can be harder at this time of year. Lights of Life is an opportunity for people to reflect on precious memories and celebrate the lives of the people no longer with us, and all are invited. In November, we create a stunning display of lights in our garden as a tribute to the people we love - our Lights of Life.
There are a few ways to be involved: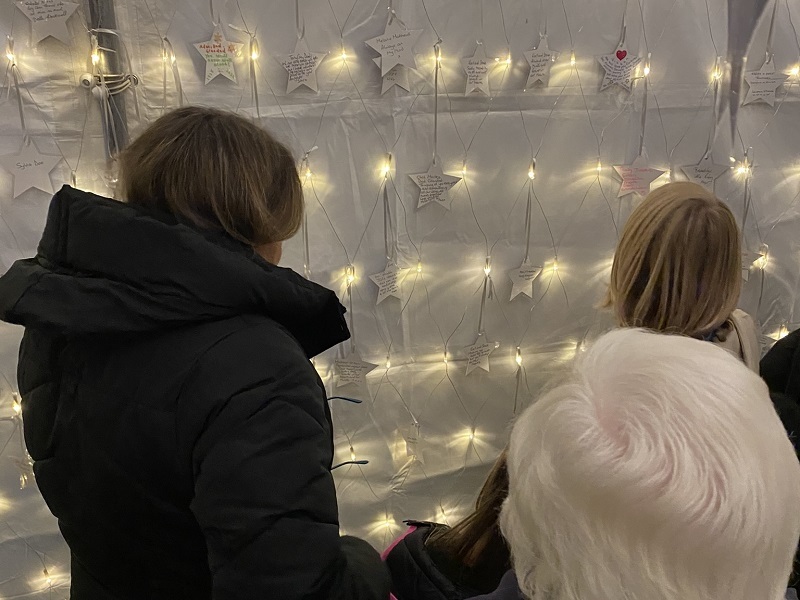 Dedicate a Star
Dedicate a star to your loved one and it will be hung outside with hundreds more, surrounded by twinkling lights.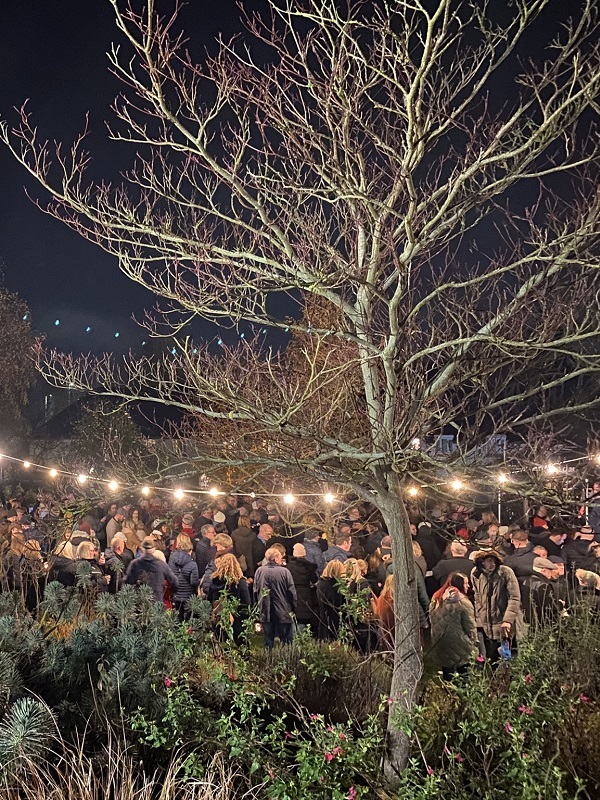 Lights of Life Service: Sunday 19th November, 5pm
Our special Lights of Life service, hosted by BBC Radio Presenter Babs Michel, includes:
Readings from staff and families
Live music from Roxy Searle
Singing with members of Royston, Barley and Chrishall community choirs
A moment of silence by candlelight
The official switch on of our Lights of Life
Warming refreshments
Time to walk through the gardens and find or hang your star dedication
Please note: Access to our garden is not permitted before 5pm, but there is an area in our car park where you can purchase drinks, Christmas cards, collect wooden stars and enjoy music from the choir.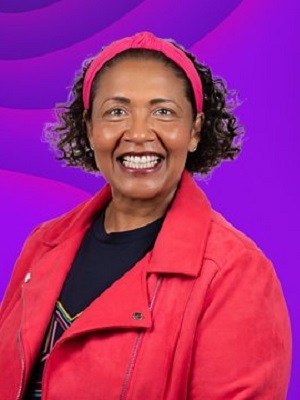 Babs presents across the East on BBC Radio. You can hear her on BBC 3CR, BBC Essex, BBC Norfolk, BBC Suffolk, BBC Northampton and BBC Cambridgeshire, Tuesday and Wednesday evenings from 6-10pm, and on weekend breakfast.
"Sometimes people talk about people that have passed to keep their memory alive. That's how you honour someone's memory.

"I like the idea of reflecting but also celebrating someone that you've lost because you never stop missing them."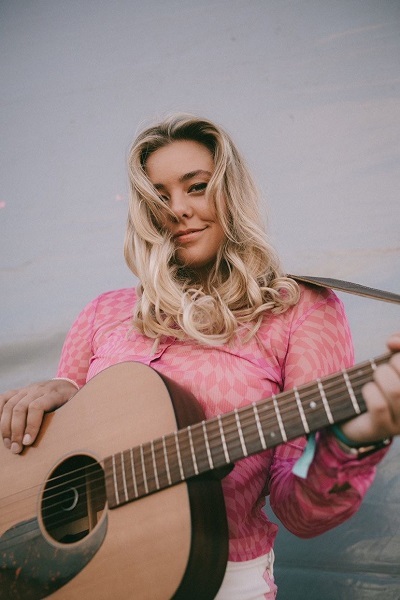 Roxy Searle is an acoustic singer-songwriter with a career spanning the West End, festivals and TV. In 2021 Roxy's beloved nan received care from Garden House Hospice Care, so she sings at Lights of Life in her memory.
She told us: "The Hospice is an unbelievable charity that helped my family through the most turbulent time whilst looking after my nan who was very ill in her last few months of her life. They treated her at home and came to her house so she could still be in the place she loved. They treated her with dignity, love and care and even sang to her on their visits.
"Writing this now makes me very emotional - the staff there aren't just staff, they are angels! We looked forward to seeing their smiley faces and were so relieved when they not only helped us with nan, but guided us through the end parts of her life while helping her to keep her dignity, which was the most important thing.
"I will forever be grateful to Garden House Hospice Care for everything they did, not just for nan but our family unit. Thank you!"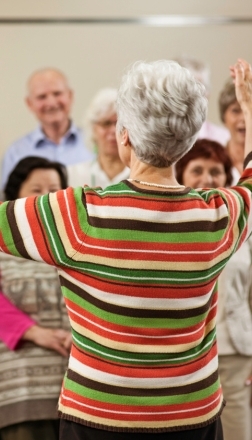 Barley, Chrishall and Royston Community Choirs
Barley, Chrishall and Royston Community Choirs are run by Kerry McDunnough. They meet weekly for a fun hour of singing from a variety of genres and will be leading a group song during the service.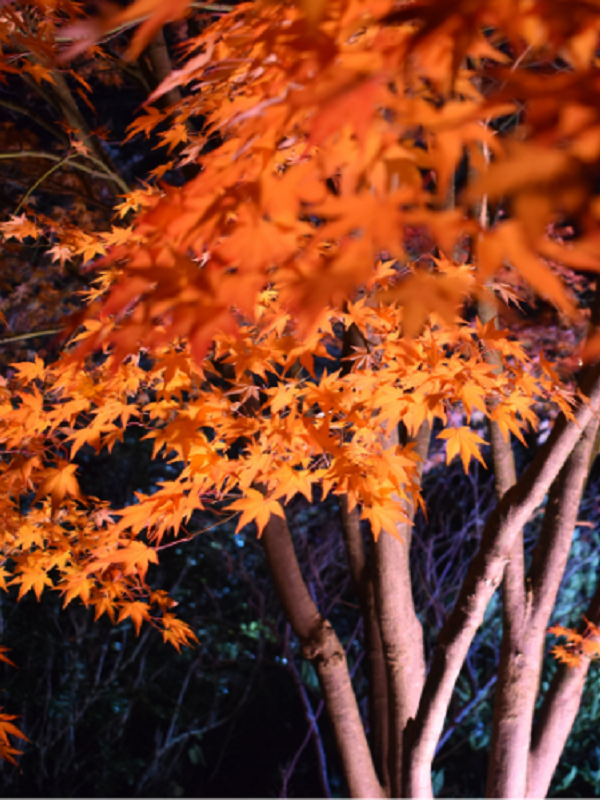 Garden Visits: Monday 20th November - Sunday 26th November
Visit our gardens which will feature wintry trees bathed in lights, blankets of soft fairy lights and our secret woodland walk. You can:
View the lights and dedication stars
Light a candle and place in a location of your choice
Take time to pause and reflect
Enjoy warming light refreshments
Both events are free but must be pre-booked due to high demand. You are welcome to attend alone, with colleagues, family or friends, and you do not need a connection with the Hospice.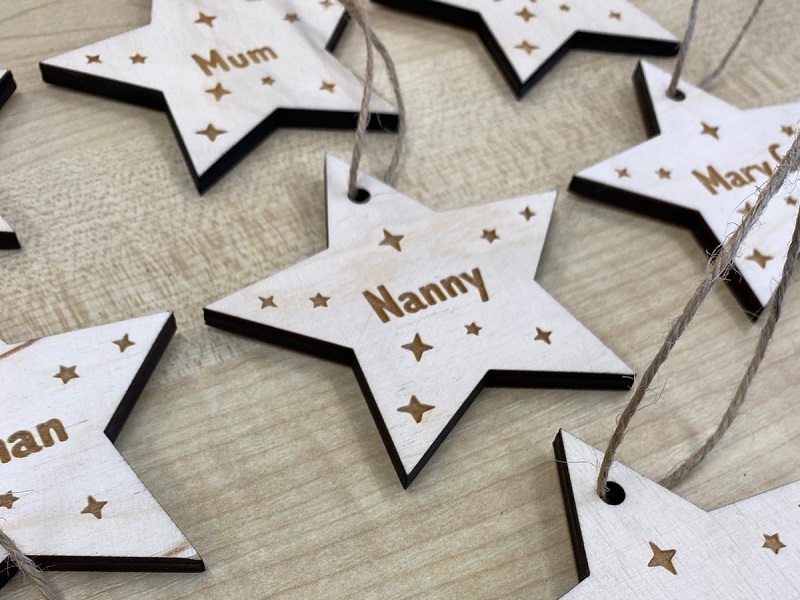 Lights of Life wooden stars

Order one of our wooden stars which can be personalised with your loved one's name, for a suggested donation of £6 each.
Please note: All wooden stars ordered from Monday 13th November will be unavailable for collection at the service on Sunday 19th November, but will be posted by the end of November.
Lights of Life testimonials
Diane's story
Diane was diagnosed with stage 4 cervical cancer at just 62-years-old. Her family, including her sister Shirley, were devastated. Diane's condition dramatically worsened within a short space of time and she was admitted to our Inpatient Unit.
"She - and we all - were petrified of her coming in," said Shirley. "But from the minute she got there, she seemed at peace. She didn't want to leave. She felt safe. Being surrounded by specialist staff was a huge comfort, because we knew how well she was being looked after."
Last year, Shirley attended her first Lights of Life service: "You feel a real warmth being around so many people in a similar position to you, all there to remember someone. It felt like we were doing something to celebrate Diane's life, as well as saying thank you and giving money to a cause that wouldn't survive without donations."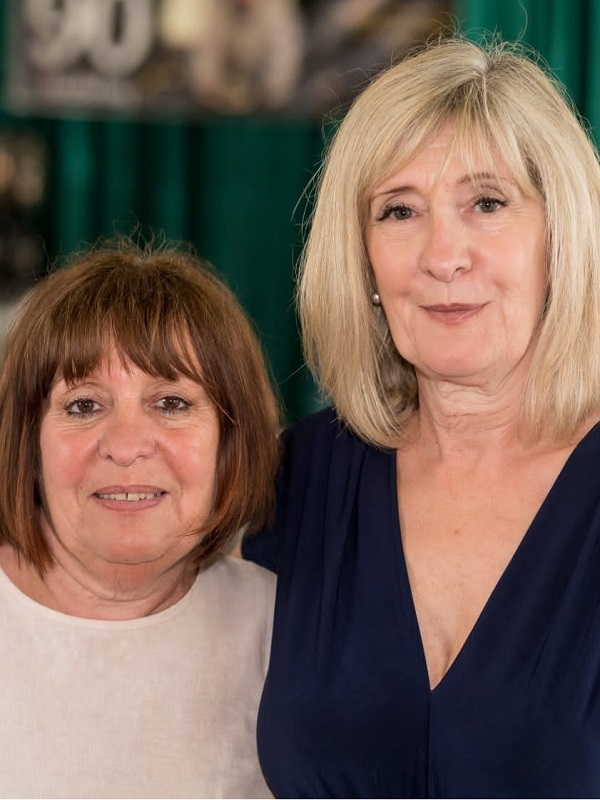 Derek attends the Lights of Life Service with his mother, where together they remember his father:
"We find it a time for reflection, especially returning to where my dad received his care. For those who haven't been, try it, even if your loved one was not cared for at the Hospice - seeing the lights reminds us of all our loved ones."
Mel visits the gardens after a close friend of hers received care at the Hospice in 2021:
"I liked the idea of dedicating a star in a loved one's memory and having space to reflect on memories of them. It's so calm and peaceful. The lights are really beautiful and at what is an extremely busy time of year it's the perfect opportunity to sit, think and wander around at your own pace."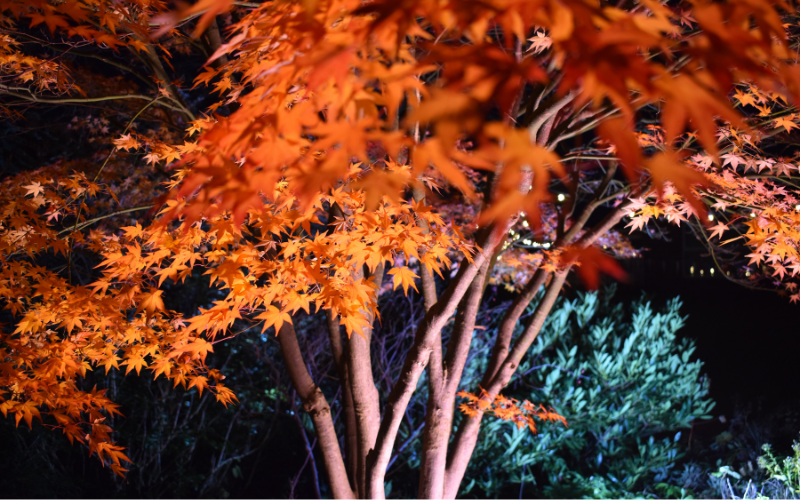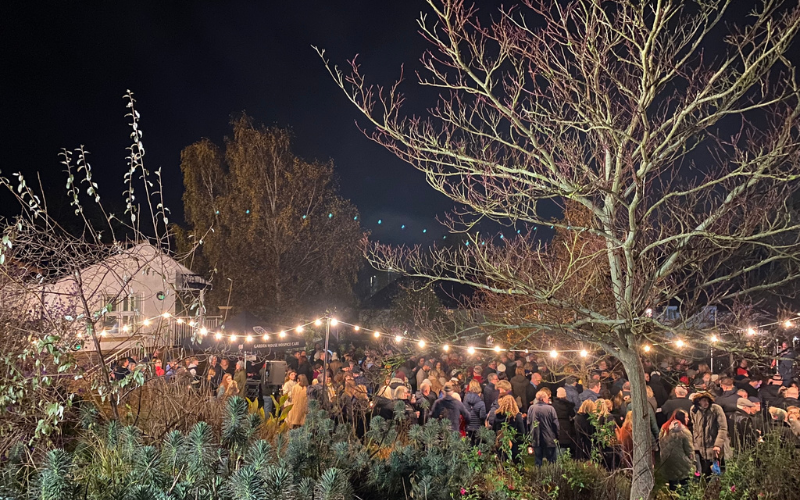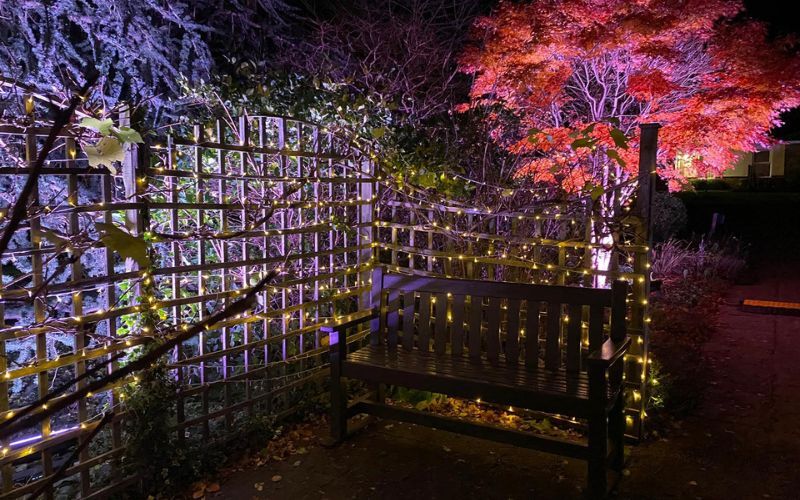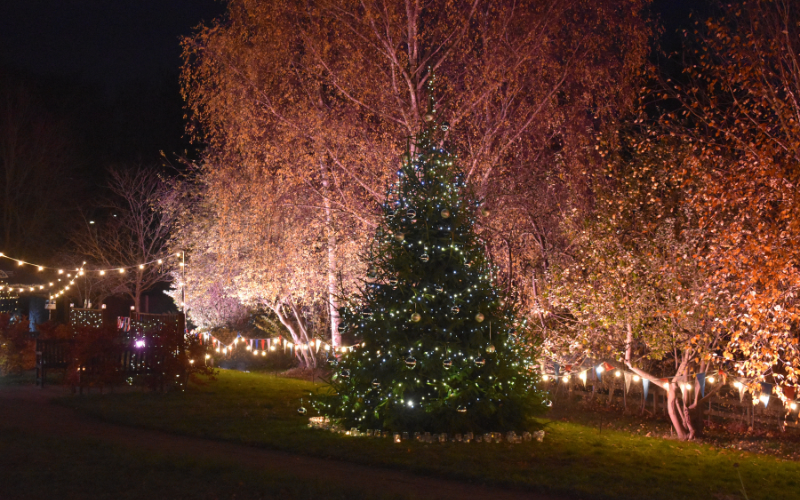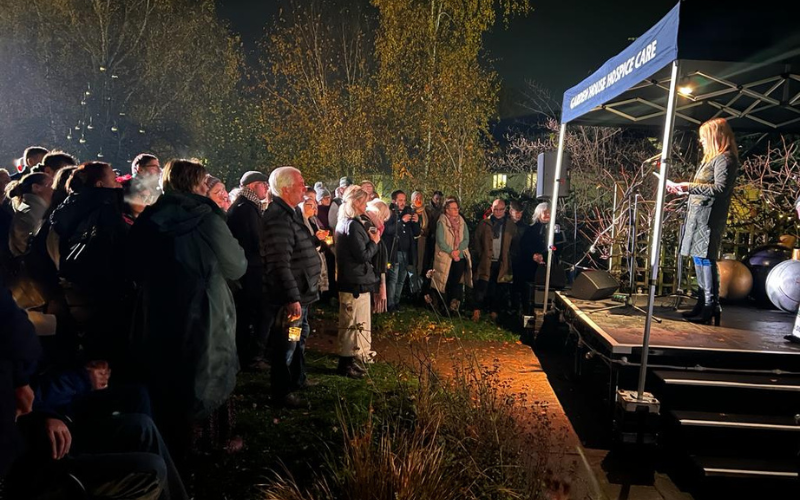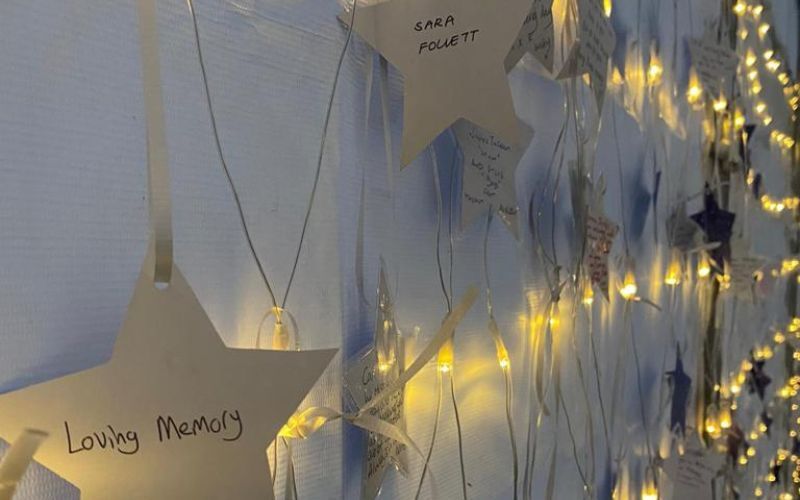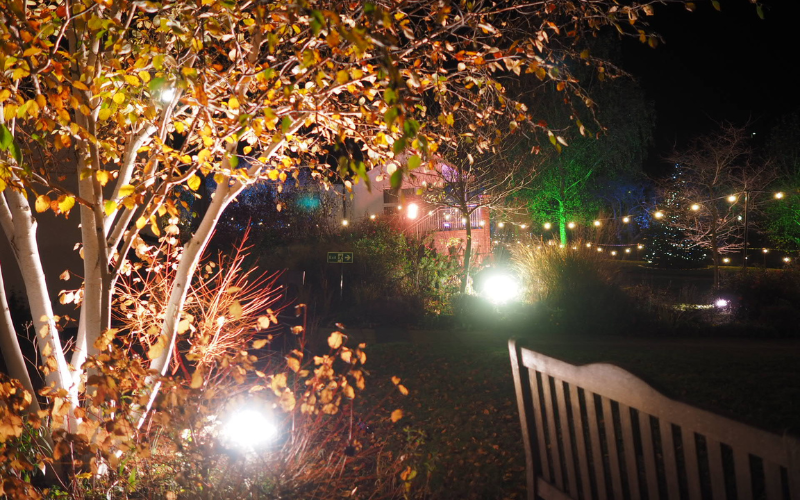 With special thanks to our sponsors: Arena Security, Tollers Solicitors, E.H. Crouch Funeral Directors and Powells Funeral Directors.