Donate items
Donations will be gratefully accepted at our Distribution Centre in Letchworth and all of our charity shops.
We will gratefully accept donations of your preloved clothing and unwanted goods at any of our shops in North Hertfordshire and surrounding areas, and at our distribution centre in Letchworth. The following items can be accepted:
Clothes (good quality men's, women's and childrenswear)
Wedding dresses, bridesmaids outfits, evening and prom wear
Footwear Belts, bags and clothing accessories
Books
CDs, vinyl records, tapes (originals only)
DVDs (originals only)
Games consoles, controllers & accessories
Duvets, pillows and bed linen (in sealed packing as sold)
Toys & games
Antiques, collectables and ornaments Jewellery
Watches
Clocks
Bric-a-brac
Small electrical items in working order
Laptops, tablets & Kindles (as long as they can be switched on)
Artwork
Old Magazines / Photos / Programmes
Unfortunately, there is also a list of items we cannot accept or sell for safety or legal reasons - please click the link to download this.
How to donate items
You can bring items to any of our shops, or our distribution centre. Research your preferred store in advance as donation and opening times may vary due to storage limitations.
light-blue-bg
orange-blue
Furniture collections
We will always welcome high-quality furniture donations, including sofas, dining room tables and chairs, beds with clean mattresses, armchairs, wardrobes, chest of drawers and sideboards.
light-blue-bg
House clearance service
If you are looking for help clearing a property, we have a professional house clearance service available. We clear houses, offices, garages and more, whether it's the whole property or just one room.
light-blue-bg
Gift Aid
Register for Gift Aid and we can claim back an extra 25% at no extra cost to you!
If you are a UK tax payer, Garden House Hospice Care can reclaim the tax you have already paid on every donation you make, which now includes items donated to our shops. By agreeing to Gift Aid, the value of your sold items will increase by 25% because we can claim that back from HM Revenue and Customs.
To save time when you drop off your donations, download our Gift Aid leaflet in advance and fill out page 3. We'll then be able to give you a Gift Aid card which you can present to a member of the team each time you donate.
You can notify us at any time if you want to cancel your Gift Aid declaration, change the name or home address on your declaration, or no longer pay sufficient tax on your income/become ineligible for Gift Aid.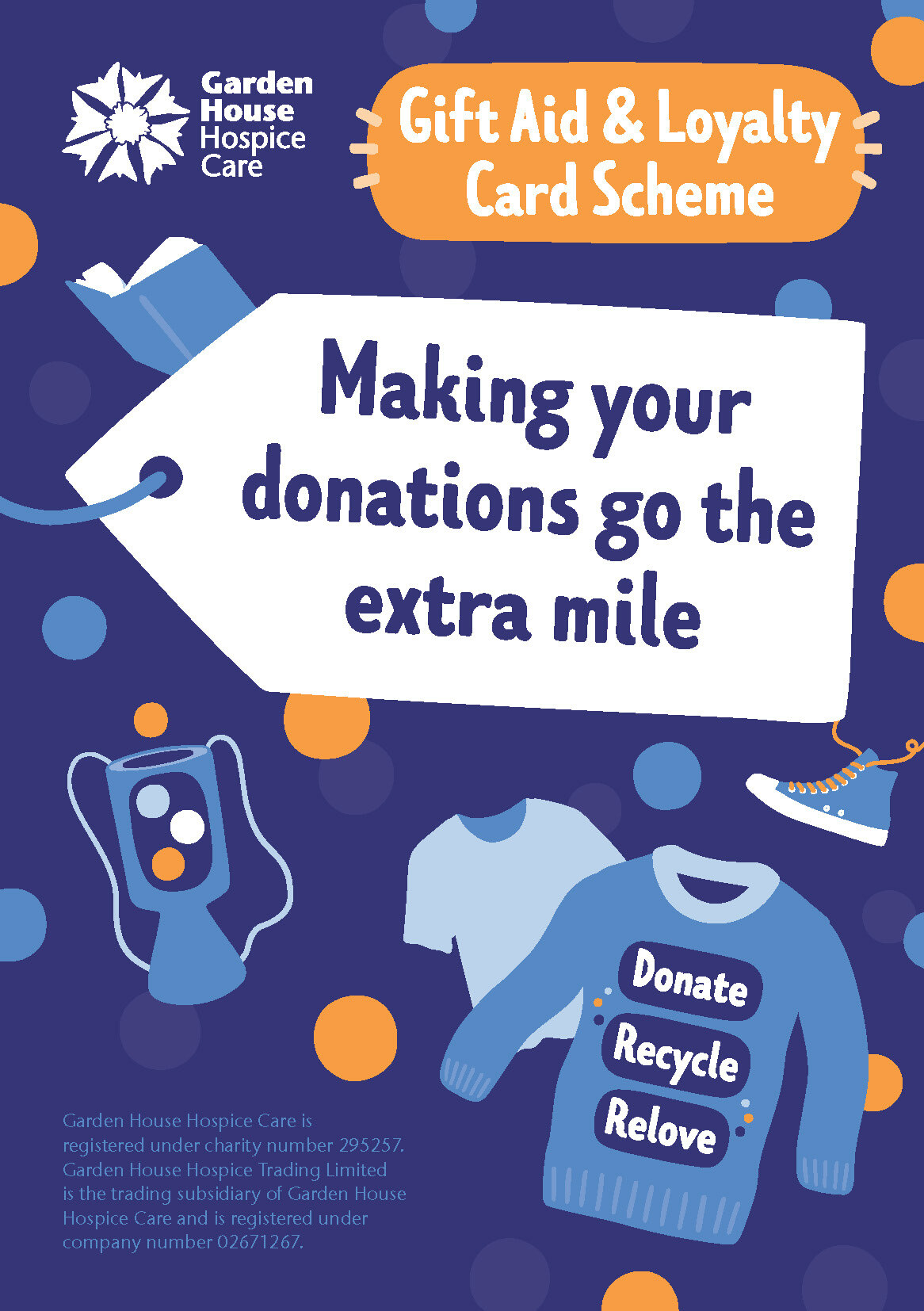 Don't dump, donate!
If you have holey, stained or tired clothing sitting around, don't dump it, donate it to us!
Last year we raised £96,906 through donation of rags. This could fund 17 days of care for all patients on our Inpatient Unit - covering the cost of nursing and our doctors, as well as running costs like hot water and keeping the unit clean.
Simply mark your donation bag as 'rag', drop it to your local Garden House Hospice Care shop or Distribution Centre and we'll do the rest!
Thank you for your donations, which will make a massive difference to the lives of local people in our community.
Get in touch
If you have any questions regarding our shops, donating items to us or your furniture collection or delivery, please email our Distribution Centre team on dc@ghhospicecare.org.uk or call them on 01462 678076 during office hours.